Introduction
Every year 14th of April is marked as Ambedkar's birth anniversary. On 14th April 1891, god he was born in the city of Indore. His official name is Bhimrao Ramji and his nickname was Baba saheb. Close ones call him Saheb. He was a freedom fighter who fought against the British to free India.
History
Baba saheb was born in a Dalit family (Mahar). At earlier times taking birth in a Dalit family was considered a curse. Dalits were treated very badly by higher caste people. Being grown up in this situation, Baba saheb wanted to study and help his community people to move forward.

After completing his studies he helped all his community people to study. When he attained a good post in the government he passed an Article.

In Articles 15 and 16, it is written that it will provide reservations for the Dalit community. Baba saheb

 mentioned that the article will be applicable for only 5 to 6 years, in which most Dalit communities will move forward.
Young Age Photo of Baba saheb
Family
He was born in the military town of Indore, Mhow. The reason for being in a military town was that his father worked in the Indian army.

Even some of his ancestors too worked in the army under the British East India Company.

Baba saheb's real surname was Ambawadekar but one of his teachers in school whose name was Mahadev Baba saheb gave the surname of Baba saheb, he even transferred it to school records. They are some family members of Baba saheb who are working in the Indian government.

Baba saheb married Ramabai in the year 1906. During their marriage, Baba saheb was only 15 and she was only 9 years old.

They together had 5 children named Yashwant, Gangadhar, Ramesh, Indu, and Rajwant. Except for Yashwant who died in the year 1977, all the other children died in the infant age. 

Ramabai also died in 1935 due to chronic illness.

After this Baba saheb got ill due to diabetes, blood pressure, and psychological issues. Because of his illness, he had to visit the hospital regularly in Bombay ( now Mumbai).

There he met a doctor whose name was Sharada Krishnarao Kabir. Due to his medical reasons, he married Sharada (Savita Saheb).  Sharada changed her name to Savita after getting married to Ram ji.
Ambedkar's Education
He had a complete degree in economics and political science, which he had completed at Bombay University. Baba had done post-graduation at Columbia University. He had also completed a doctorate in economics at the London School of economics.
Family Tree
Religion of Ambedkar
Saheb had once said that "He was born as Hindu but will not die as a Hindu." He converted to Buddhism in 1956. Before this conversion, he had researched by himself all religions like Islam, Christianity, and Buddhism but he finally liked the teachings of Buddhism.

In Buddhism, Buddha is himself a human who lived in kalyug. He is not a self-declared god or it is not a fictional story that he lived. It proves that Buddha lived in kalyug. Ambedkar himself doesn't believe in blind faith.

Some researchers also say that Ambedkar converted to Buddhism as in Hindu culture he had faced much discrimination which is not considered one's value. Ambedkar believes in education, not in discrimination.

baba saheb died on 6th December 1956 at the age of 65 years.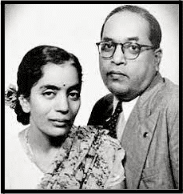 Baba saheb and Savita Ambedkar
Conclusion
Ambedkar is a real fighter in all circumstances. We can learn some teachings from Ambedkar's life. Firstly we can learn that education is important for everyone.

Some people will not be able to afford an education, in that case, people who are educated or in a good position should help others who can't afford it.

This can help our human community to grow and educate.  Secondly one should not discriminate against others through caste, religion, race, or culture.

We all are human beings, and the same blood is flowing in everyone, so why discriminate. As we all know that we are living in the 21st century,  we are so developed that we can modify our thoughts. 
"Purpose of Education is to moralize and socialize people" By Dr. B.R. Ambedkar.
also read about Mata mansa devi's life birth childhood, education and contribtuton to the country
05\04\2022
Other Articles