Introduction to Bird sanctuary
Najafgarh drain bird sanctuary is wet drainage that was converted into a bird sanctuary during the years 1986 to 1989. Sanctuary is located in the national capital of India that is New Delhi. The nearest metro station to the bird sanctuary is Dwarka sector 21.
History
Many years ago the najafgarh drain bird sanctuary used to connect to the Yamuna river as sahibi river but now it is the najafgarh drain of 51 km in length. Najafgarh drain is named after a city called "najafgarh". The city got its name from commander chief Mirza Najafh Khan who was in the Mughal army. 
About
Some interesting facts about the drainage system there are so well developed that on the two sides of the drainage system there are so many trees. 

Water in the drain can also be used for irrigation purposes.

Many migratory birds also come over there and stay here for some months.

This is the reason that it got converted into a bird sanctuary.

I would suggest that everyone should visit this beautiful place during the winter season which is from October to February as one can experience or admire the beauty of all birds there including the birds who migrate to this place. It is quite interesting that some birds migrate to this place every year at perfect timing.

The most important part is the entry fee to this place is free.

But the bad part of this place is the bird sanctuary getting destroyed or the birds changing its place for migration. The cause of this urbanization and industrialization.

 Najafgarh bird sanctuary is getting worse day by day due to the industrialization and urbanization of the city.

Pollution from the industries which are being dumped into the drain.  This is the reason that some birds are losing habitat there.

During the 20th century, things were better as around 2000 flamingos migrated to this place but the numbers are decreasing year by year.
The Governments of both the states, that is the Haryana government and Delhi government should take some actions on these issues and make this place as good for migration as well as for the local birds. So that they can live happily there.

The overflowing population of Delhi is also the reason for the decreasing number of birds year by year. As many people come here to give a standard of living for their children.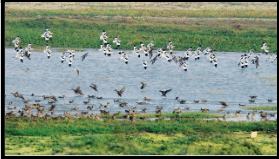 Birds in the Sanctuary
This bird can be seen in central Asia. A flock of birds migrates to India every year during the winter season. Many birds can be seen in the najafgarh bird sanctuary.
This species of bird, there are 4 varieties which are mainly found in America, Africa, Europe. These birds fly to India during the winter season, Najafgarh is also the main place to migrate. 
These birds are grey. It can be counted under large birds as its length is about 74 to 91 cm. It weighs about 3.3 kg which is quite big compared to other birds. They generally migrate to Europe and Asia during the winter season from America.
This bird is black and white. They are generally found in Europe, and Asia. This bird species also migrates toward India during the winter season.
The Kingfisher bird is a very beautiful blue and orange. These colors are very fascinating.  This breed can be found in Africa and Central Asia. This bird too migrates to India during the winter season.
This bird is brown and orange. It breeds in Europe, Iceland, central Asia, Netherlands. These regions are very cold during the winter season so this bird moves towards southern Asia, that is India, as our winter season is not as cold as theirs.
This bird is mostly found in central Asia and Africa. This bird got this name because it has a wool type of neck that is white. They are mostly seen in the wetlands of the region. 
This bird is found in the Himalayas region of India. They are white and black, their beak is orange in color. They migrate towards the plain region because of the cold climate there.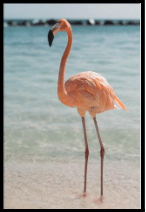 Conclusion
Najafgarh bird sanctuary is a beautiful bird sanctuary. It also has a vast number of habitats that migrate to India during the winter season. Government should take some actions regarding the pollution so that Najafgarh becomes a permanent place for migration from all over the world.
Internal links:
Arial Island Wildlife Sanctuary you should know- Erakina
7 wonderful fact about Khijadia(House of Birds), you don't know before it– Erakina
A attractive Nelapattu bird sanctuary you should visit it -Erakina
External links:
Other Articles