Introduction
Barren Island wildlife sanctuary is located in Andaman and Nicobar islands on Bay of Bengal. The island has good biodiversity which helps the animals and plants to live. Animals there are wild goats, bats, birds, rodents(rats), etc. These animals can live in a harsh condition, that is, they can live in extreme climates. The entire island has been converted to a wildlife sanctuary by humans. A person would need an official permission of the Indian government to visit there.
History
Barren island is also called barren land by Indians because no humans can live there permanently; humans can only go for visits. Barren island is about 138 km away from the mainland of India. The island has only one active volcano. This volcano is considered to be the only active volcano in India as well as in Asia. Its first eruption was discovered in the year 1785-1789. Volcano there is about 230 million years old. After being inactive for about 150 years, the volcano in barren island became active during the 17th century, that is on August 24th, 2005 and the lava in the volcano can come out at any time. This is the reason that no humans can live there and animals found there are also very little in number. Earlier, 16 species lived there but now only 6 species live there.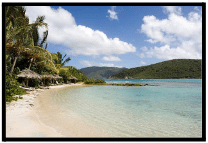 View of Barren Island.
Plants and Animals
Reasons for being Inhabitant
In barren island, there are many volcanoes which are dormant but only one is active. Dormant volcanoes can also be converted to active volcanoes because of the climatic conditions. So humans are not allowed there. They need permission to visit the island. If a person lives there, it would be difficult for him/her to escape–in the case of a volcanic eruption–as the land is mainly covered in water, he/she can only jump into the water. 
Trip to Barren Island
After many restrictions put in place, one can visit the barren island, but no night stays or early morning visit is allowed. It takes about 4 to 5 hrs to complete the visit to the island. One can do scuba diving as proper arrangement for scuba diving has been done. Cost of a single trip is much higher, about $131. The Government of India generally allows 2 to 3 people at a time, single person is not allowed.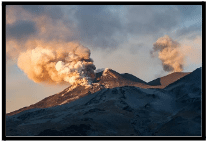 Scene of Volcanic Eruption in Island
Conclusion
Wildlife Sanctuary in barren island is half man-made and half-natural. Many animals died because of the heat produced by the volcano and volcano eruption, but some managed to live. Talking about the barren island, it is the most beautiful one as there are no humans who can live there permanently, no factories are built and of course minimum vehicles. So automatically the sky, air, and water are so clean and fascinating.
Other Articles