Introduction
Juroni Paani is a well known summer drink in Assam and regions of Northeast India. The summer drink is popularly known as "Bhim kol Sorbot" by locals and is made by an aboriginal variety of wild banana 'Bhim Kol', scientifically named as 'Musa balbisinia colla'.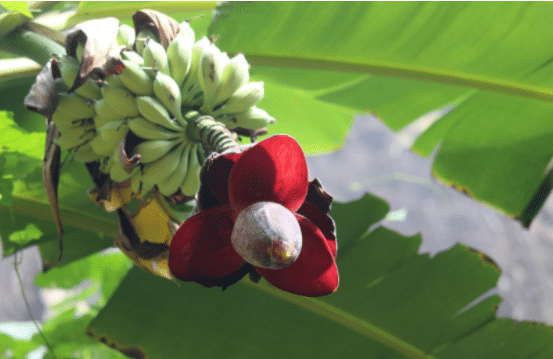 Juroni Paani(Musa balbisiana colla)
Musa balbisiana colla was scientifically first described in the year 1820 by the Italian botanist Luigi Aloysius Colla, and is also commonly known as 'Athiyakol'. It is a largely grown crop in Assam, India and is a distinct commercial variety.  The state produces a wide variety of bananas(among which Musa balbisiana colla is one) in a 42,100 hectare land with a harvest of 581,000 tonnes. The state also took part in the 'National Banana Festival' organized at Madurai Agricultural College and Research Institute of TNAU in 2017 by the government of Tamil Nadu, India.
Nutritional value
The fruit shows profound amounts of micro and macro nutrients. Ripe fruit has major amino acids such as aspartic acid, glutamic acid and leucine. The plant contains high levels of potassium and chloride, which is why it is considered as a good source for medicinal use. In ancient times, 'Kolakhar' was used as a soap and detergent to wash clothes and hair. Nowadays, it is used as an exceptional renewable source of potassium carbonate which aids in commercial exploitation since it contains rich amounts of K, Na, CO3 and Cl along with other trace elements. High levels of calcium and potassium makes the plant to be used as a substitute of common salt and it can also be preserved in glass containers for decades without any preservatives.
It is a magnificent source of baby food. In Assam, the fruit is de-seeded, mashed and then blended with rice flour or only with milk and the mixture is fed to babies. In some parts of Assam, the fruit is mixed with rice flour or xandoh and consumed for breakfast.
Usage of different parts and its benefits
Every part of this banana tree is edible and the leaves(kholdong or khols/kolpat) are used as serving plates. Its;
Stem(posole) and flower(koldil) are used as vegetables.

Skin and roots are used in preparing "kolakhar".

Leaves are also used in cooking famous delicacies such as "patot diya".
In Assam, this banana is used as a health drink, dietary supplement and for its nutritional values. 
Fresh pulp of ripe

Musa balbisiana colla

fruit shows antiperoxidative and antioxidant properties which helps in suppressing oxidative stress related diseases.

Ventral surface of the leaf contains a distinct waxy matter which is used as a vermifuge in treating pinworm infections.

The peels are used in the synthesis of a heterogeneous base catalyst which is highly effective and eco-friendly for the production of sustainable biodiesel.

The peels of 'bhim kol' are also used in the transformation of cooking oil to biodiesel.

Its peels are also known to serve the purpose of producing fatty acid methyl esters(FAME) as a heterogeneous catalyst for sustainable fuels.

The flowers are a rich means of calcium and iron. The preparations of the exudates of the mature plant pseudo-stem are used in treating women infertility.

Ash of the fruit bark and dried peel of the ripe fruit are used to treat Gout, Gastritis and Cough respectively.

Ripe fruit is used in curing dysentery and is used as a famous health tonic.
Health tonic
This health tonic has many health benefits and is also believed to enhance immunity. 
In Assam, the health tonic made from the fruit is popularly known as 'Juroni pani' or  'Bhim kol sorbot', also sometimes referred to as 'Banana juice', and is widely consumed as a summer refreshment drink.
Preparation
To prepare 'Juroni pani' or 'Bhim kol sorbot';
You need two or more pieces of banana fruit

Peel the fruits, and cut into small slices
Soak the slices in the required amount of drinking water in a bowl or a container for about 5 to 6 hours/overnight.

Then strain the liquid from the bowl, and viola!, the 'summer refreshment health drink' is ready to be served.
Other Articles