Aam Panna or Mango Panna is one of India's most popular beverages. It has been around since ancient times. Say hello to summers, say hello to Aam Panna!
When summer begins, I become extremely pleased, not because the temperature rises, but because I'll be able to taste the classic Indian beverages created with 100% natural ingredients, among which Aam Panna is one. I'm sure every one of you reading this has fond recollections of this drink from your youth, and every time you take a sip of it, those memories and flashbacks flood back, leaving you with a grin on your face.
What is Aam Panna?
It is a pleasant summer cooler that is popular in northern and western India. The aam panna concentration can be stored in the refrigerator for several months. It's a vegan summer cooler made from green unripe mangoes. It is created during the hot Indian summers when mangoes are in season. The flavour of aam panna is acidic and sweet, with undertones of cardamom, cumin, and black salt. The use of these spice powders and black salt not only adds flavour but also aids digestion.
Ingredients of Aam Panna
Raw mangoes

 Water

Cumin Powder 

Mint 

Sugar

Sendha Namak i.e. Rock Salt 

Salt 
Fun Biological Facts about Aam Panna
It is a popular Indian beverage known for its cooling effects. 

It is produced from fresh mangoes hence its colour ranges from yellow to light green. 

A typical glass of Aam Panna contains around 180 calories.

It also contains nutrients like folate, pectin, and choline.

It also contains important minerals including potassium, sodium, magnesium, iron, and calcium.

It is drunk as a pleasant and healthful beverage to combat the harsh Indian summer heat. Mint leaves are frequently included to enhance the drink's green hue.

Raw mangoes are used in making this beverage which contains a high concentration of pectin, which rapidly depletes when the stone forms. Raw mangoes also contain oxalic, citric, and malic acids.

This drink is also high in vitamin B1 and B2, niacin, and vitamin C.
Health Benefits of Aam Panna
Aam Panna is a health drink composed of unripe green mangoes that are considered to be a good drink during the hot summer months.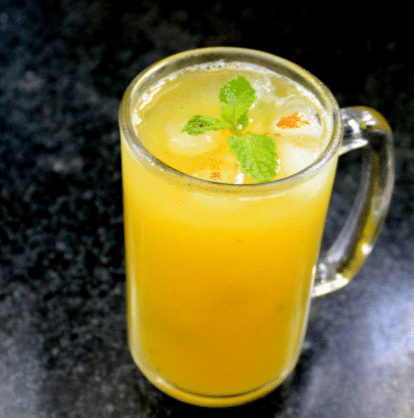 Some of the key health advantages of Aam Panna are mentioned below:
Aam Panna has the ability to treat constipation, repair blood diseases, and increase the condition of the skin and eye health. 

Aam Panna alleviates sadness.

It also prevents dehydration and diarrhoea. 

Aam Panna also offers energy and boosts the body's immunity or bacterial resistance.

Because Aam Panna is strong in fibre, it naturally becomes a digestion-friendly beverage. Furthermore, the bio-active components it contains, such as aldehyde, easteras, and others, help to improve the body's digestive system. It contains vitamin B, which aids in the cleaning of the intestines and the treatment of gastrointestinal diseases.

When it comes to combating diabetes or excessive blood sugar, restricted consumption of Aam Panna has been proven to be quite beneficial.  Aam Panna is said to be a sure-fire therapy for lowering elevated insulin levels since it helps reduce blood insulin levels back to normal. Aam (Mango) has a low glycemic index, which ensures that it does not contribute to an increase in insulin levels when consumed up to a set limit.

Heatstroke is frequently caused by the loss of a significant number of electrolytes, particularly sodium. Because it is high in minerals, a glass of Aam Panna can help restore the body's electrolyte equilibrium. A chilled glass of Aam Panna prevents heat stroke and electrolyte depletion.

Aam Panna's high vitamin C content promotes the production of antioxidants such as quercetin, methyl gallate, fisetin, isoquercitrin, astragalin, and others. These antioxidant substances protect the body from cancers such as colon, stomach, lung, prostate, leukaemia, and breast cancer, among others.

Aam Panna is high in Folates, which aid in the prevention of birth abnormalities and the proper development of a kid in the womb. Having Aam Panna in moderation during pregnancy might help reduce hazards to the infant, such as birth abnormalities, while also ensuring that the baby grows well.

Aam Panna, as a rich source of iron, aids in reaching the body's daily iron requirements. Not only that, but Aam Panna may be one of the finest sources of iron consumption when it comes to combating disorders related to iron deficiency, such as anemia.
If something is so amazing for rejuvenating your memories and your body, with such tremendous nutritional worth, health advantages, and emotional value, shouldn't it also be termed a source of happiness? Aam Panna, indeed, is the wellspring of your body's and soul's bliss!
Other Articles