Introduction
By now, I'm sure you can tell that I'm a huge fan of summer drinks. And when it comes to making a drink, I cannot help but write about it. That's why I'm here with yet another sweet and delicious drink, Buransh sharbat.
About
Buransh sharbat or drink made from the Buransh flower (Rhododendron arboreum), seen in Uttarakhand, has numerous health benefits. Rhododendron is a tree that grows in the Himalayan region. Nepal, Bhutan, and Sri Lanka are also home to this species. It is also Nepal's national flower. These flowers bloom during the spring season and are used in the preparation of various drinks such as sherbets, teas, juices, and chutneys. It has a deep purple flower that is high in anthocyanins. That's why, if you're planning a trip to Uttarakhand this season, you should definitely try this drink or stock up on dried flowers. 
The Buransh Sharbat recipe in detail
Ingredients:
250gm of Buransh flower (

Rhododendron arboreum

)

Sugar per taste

1.5 liter of water

Added color (optional)
Recipe with step-by-step instructions
First and foremost, thoroughly clean the flowers. Only the flower petals are required. The white stems and pistils must be removed as they make the flavor of the sherbet bitter. 

Wash the flowers thoroughly 2-3 times with water. Allow the flowers to dry at room temperature rather than in the sun.

In a large pan, combine water and sugar. When the mixture begins to boil, add the buransh flowers.

Turn off the heat when it has thoroughly mixed and thickened. If you want to use the color, add it before you turn off the gas.

When the mixture cools down, filter it with a filter. Store it and keep it in the fridge.

When you feel like drinking it, mix 2 teaspoons in a glass of water and make sherbet. And just enjoy the healthy and nutritious sherbet of the buransh.
8 undeniable health benefits of Buransh Sharbat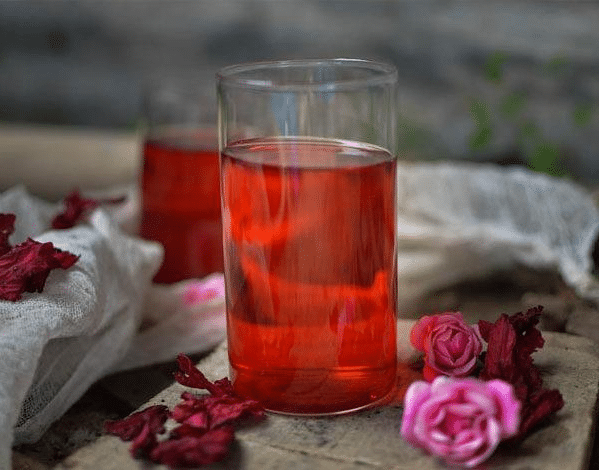 Buransh has anti-hyperglycemic properties, which help to regulate blood sugar levels. As a result, diabetics can consume it as well.
Natural herbs in drinks are always beneficial to our bodies. Buransh Juice aids in the reduction of blood pressure and bad cholesterol. Quercetin and rutin are two flavonoids found in buransh flower juice that have been shown to benefit the heart. Furthermore, this flower juice has antioxidant properties and protects the heart from oxidative stress, lowering the risk of heart attacks. However, if you have a history of heart disease, you should consult a doctor before consuming it.
Buransh flower contains quercetin and rutin, which inhibit cancer cell growth and reduce cancer risk. Together with other phytochemicals, they provide antioxidant properties that prevent cell damage, which leads to mutation and the development of cancer.
Buransh flowers are used as a liver tonic in Ayurvedic medicine because lab studies with Rhododendron revealed significant anti-inflammatory properties. Buransh flower has been shown in studies to have hepatoprotective (liver-protective) properties.
Helps in skin nourishment
Buransh juice helps to prevent aging and restore skin radiance. It is a powerful antioxidant that shields the skin from the damaging effects of sunlight and pollution. Above all, it has anti-inflammatory and anti-bacterial properties that can be used to treat acne, eczema, rashes, and other types of skin inflammation.
Ability to eliminate pain
Buransh flower juice can help relieve stomach pain. The young flowers of Buransh are used to treat headaches. Because the leaves of the Buransh tree are astringent, they are used as a poultice to treat wounds and, more importantly, to reduce skin inflammation.
People in the area make a paste out of dried buransh flowers to help with diarrhea and dysentery. Buransh flower ethyl acetate extract has shown antidiarrheal efficacy in lab trials. The capacity to alleviate diarrhea is due to phytochemicals, primarily flavonoids, tannins, and sterols.
Works as an allergy reliever
When the Buransh flower blossoms, the locals eat it, believing it will protect them from illnesses like allergies, asthma, hives, and hayfever. Furthermore, the antioxidant Quercetin found in Buransh flower juice aids in the prevention of allergic reactions in the body's immune cells.
Other Articles