Introduction
Cheese is one of the favorite dairy products easily available in the market which helps make many recipes delicious. One of the quick and easy-to-cook recipes is cheese chilly toast. It is quite popular among kids. Whenever we need a quick snack on a busy day, we can always make it and relish it. It doesn't need many ingredients but quite a few which are easily available or readily available at home.
There are different varieties of recipes for cheese chilly toast. Let's look at one of the easy recipes below:
Recipe
Cheese: 1 cup of grated mozzarella
Bread: 4 slices of brown bread
Chilly: as per taste
Salt: as per taste
Oregano: 1 teaspoon
Coriander leaves: 2 tablespoons chopped
Garlic powder:  1/2 teaspoon (chopped garlic can also be used)Method:   Keep the brown bread aside and mix the remaining ingredients in a bowl. Divide them into 4 equal parts and spread them on the bread slices. If you have an oven, then bake the slices of bread in a pre-heated oven for 5-7 mins at 200℃ until the cheese melts and the bread is toasted. You can also toast it on a pan slowly for 5-10 mins. Serve hot and enjoy.
Nutrition
Although cheese is famous for its high-fat content, it is good for health for the multiple nutrients present in it. Some of the important nutrients are Protein, Calcium, Vitamin A, Zinc, Vitamin B-12, Vitamin K, and sodium. About 293 mg of calcium and 468 mg of sodium are present in one ounce (28 gm) of cheese.
Since it is a very good source of calcium, it is very good for women, lactating mothers, kids, and patients who have a calcium deficiency.
There are many varieties of bread where refined or unrefined whole wheat flour is used. Brown bread is made of whole grains or unrefined flour. Brown bread is healthier than any other white bread for its high fiber content. This is a fiber-rich food that helps with weight loss. It is also healthy with enough carbohydrates and proteins in it.
The fiber content helps in bowel movement and acts as a natural laxative. There is multigrain bread as well which is another nutritious option for breakfast or snacks and is packed with essential nutrients. The other compounds in brown bread are antioxidants and vitamin k, vitamin B and E. Antioxidants improve heart health and prevent heart attack or stroke. Diabetic patients can also consume brown bread.
Garlic is another ingredient that is readily available in our kitchen and beneficial in many ways. Garlic has antibiotic properties which help to prevent cancer and also improve the body's immune system. It also helps reduce cholesterol levels and high blood pressure.
Coriander is an herb widely used in many recipes around the world. Coriander seeds are also used in cooking, and it is a flavorful spice used in cooking. Coriander helps reduce blood pressure and blood sugar and is also good for a healthy heart. Coriander is antioxidant and it has anti-inflammatory properties which are also good for a healthy brain. It is good for the digestive system and helps fight against infections.
A brief history of cheese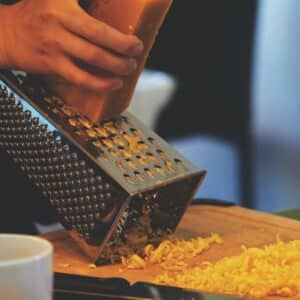 Cheese is one of the oldest food products and assumed as 10000 years old or more as per facts found in Greek mythology. It was popular in Rome, America, and spread across Asian countries. The manufacturing of cheese in America was popular during the 17th century. However, there are some details of the Portuguese introduction of cheese in India, the processing of dairy products in India is claimed as old as 4500 years old.
Paneer or Indian cheese is popular in India and is made of curdled milk and is also called cottage cheese. Whatever be the history, the enormous varieties of cheese available in the market are food lovers' delight. You can always pick one of them for a delicious meal and enjoy it with your friends and family.
Conclusion
Many food products are available in the market, but it is always good to make fresh homemade food. Cheese chilly toast is a quick and healthy snack to enjoy. Consuming it in moderate quantities is advisable for its fat content otherwise it has a lot of other essential nutrients.
Internal links:
5 Superfoods to fortify your diet- Erakina
Dairy-free healthy Chocolate chips- Erakina
External links:
Other Articles