Introduction to forest reserve
Periyar National park [Forest Reserve] is situated in the Western Ghats of Kerala in South India. It is one of the renowned National parks in South India and is named after the River Periyar which flows on the border of Kerala and Tamilnadu. It is the longest river and is called the lifeline of Kerala.[Forest Reserve]
The source of this river is in the Sivagiri hills, Tamilnadu this perennial river flows into the state of Kerala providing water for irrigation and domestic purposes to the major towns in Kerala. 25% of industries are located on the banks of this river.[Forest Reserve]
An artificial lake created in 1900  after the construction of the Mullaiperiyar Dam lies at the heart of the sanctuary.  It was constructed in 1887 and 1895 by the English who ruled India and an agreement to divert the water to Tamilnadu was also signed. Major John Pennycuick was the engineer behind this plan and the construction of this dam. In the 18th and 19th centuries, this reserve was a hunting ground for the Kings of Travancore.[Forest Reserve]
In 1899 the area was declared a forest reserve to protect the wildlife. It is considered a most protected area for Elephants and Tigers. An area of 925 sq km was declared a protected area and the remaining area of 777 sq km was earmarked for the Periyar National park. It is one of the largest reserve forests in Kerala.[Forest Reserve]
Flora and Fauna
This forest area is densely covered with tropical evergreen and deciduous trees. Teak, Rosewood, Terminalia, Eucalyptus, Sandalwood, Jacaranda, Mango, Jamun, Tamarind, Pipal, Plumeria, Gulmohar and Bamboo are mostly found in this area. The swampy areas along the Periyar lake are full of tall weeds and many mammals dwell in this area.[Forest Reserve]
The open grasslands found in this area are a feeding ground for most of the animals like deer, Elephant, Indian antelope, etc.[Forest Reserve]
This national park is an abode for 62 species of mammals, 320 species of birds, 27 species of amphibians,320 species of birds and 38 species of fishes. Elephants are found in herds and watching them renders a thrilling experience for the tourists.
As per the census taken in 2017, approximately 35  tigers exist in this Periyar Tiger Reserve and it is not so easy to view the sight of it during the safari.  Apart from these rare lion-tailed macaques, Sambar deer, bonnet monkeys, leopards, Nilgai, langurs, Indian bison, porcupines, and sloth bears are found in considerate number.
Grey jungle fowl, Kingfishers, Great Indian Hornbills and southern grackles are few birds found in this area.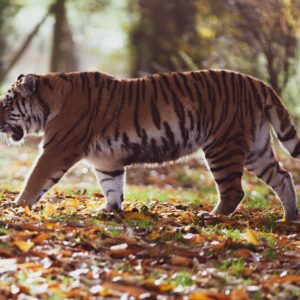 The best season to visit this sanctuary is between October to June. Boat cruise safari is the highlight in this place where tourists can enjoy both the boat travel as well as watch the wildlife. There is a jeep safari inside the jungle in the daytime. Some people enjoy night safari though it is dangerous and still exciting too. It starts from. 11 p.m to 3 a.m.
Most of the wildlife can be sited at this hour and hence a special night safari is arranged in this place.
Conclusion
The natural beauty of this state attracts more number of tourists and hence tourism is declared one of the main industries by the Government itself.  The Government facilitates tourism and contributes to the enhancement of this industry by allotting funds for its enhancement.[Forest Reserve]
As per the official statistics Kerala's tourism owns  10% of GDP, the highest in the country, and provides 23.5% of employment overall in the state It also offers more benefits to the rural areas by employing the local people improving their economical status, educating them to fight against poaching and other illegal activities ultimately improving the economy of the state.
Rural tourism promotes the rich cultural heritage of our country as a whole.Habitat destruction, degradation, fragmentation, overexploitation, poaching, pollution, and climatic changes pose a great threat to the wildlife becoming extinct. It is essential to protect them to maintain a balanced ecosystem and make the earth a better place to live.
Internal links:
What you know about Balphakram National Park's beauty and greatness -Erakina
Abeautyful Anamudi Shola National Park what you know about it– Erakina
What to enjoy at Sariska Tiger Reserve?-Erakina
External links:
Other Articles