Let's Unbox the beauty of India
The state that shares its border with five states and is popularly known as the "land of forests". Want to know more about Jharkhand? 
We Indians make plans to visit Paris, Singapore, Canada, the list is uncountable. No doubt these places are spectacular but it's our human nature that restricts us to embrace what we have. Before making plans of travelling out of India, there is n number of marvelous places in India which are waiting to be discovered by you. Tourists love to come to India and have a great experience of being in a place full of traditions. culture, diversities, and most important Indian food. Let's see how Jharkhand contributes to making India, A must-visit country.  
About Jharkhand
It's been around 21 years since Jharkhand came as a different state on the map of India. In 2000, it was carved from the state Bihar and is the 28th state of India with Ranchi as its capital city. 
It is a rural state that is rich in minerals. It gives about 40% of the total mineral to the country.  Bihar, Uttar Pradesh, Chhattisgarh, Odisha, and West Bengal are the states that share their border with Jharkhand.
The three well-defined seasons this state observes are hot weather(March to mid-June), cold weather(November to February), and monsoon(mid-June to October).

It's a "Land of Forests" because one-fourth of its land area is covered with forests. Various valuable trees such as Sal, Asan, Mahua, Bamboo, Banyan, and Bo tree are majorly grown trees in Jharkhand. 

The Hazaribagh wildlife sanctuary is famous for its Bengal Tigers.

With surface water and groundwater, fertile land, and moderate temperature, Jharkhand is a very favorable place for agriculture.  

The richest mineral belt in India is Chota Nagpur. Copper, kyanite, pyrite, phosphate, bauxite, mica, caroline, and iron ore are the other most obtained minerals from Jharkhand. 

The Damodar valley corporation, a multipurpose power project of Jharkhand operates various thermal plants and hydroelectric dams in Jharkhand as well as West Bengal. 
Top Places to Visit in Jharkhand
Apart from being the destination place for nature lovers and wildlife devotees, there is a lot in Jharkhand which makes it a complete package for a dream destination. It is abundant with holy shrines, wildlife sanctuaries, and museums that make it one of the diverse places to visit in India. Here is the list of must-visit places in Jharkhand that will help you gain the best experience in touring.
Ranchi
If you want to enjoy the scenic view of wonderful waterfalls, then Ranchi is the best option. As mentioned above Ranchi is the capital of Jharkhand and is known as "The City of Waterfalls". It is also known as "Manchester of East" as it is very rich in mineral resources. Apart from Hundru Falls, Dassam Falls, Johna Falls, and Panch gagh falls are also the center of attraction. 
Jamshedpur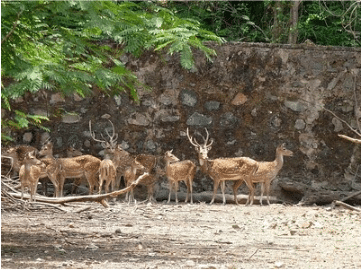 Jamshedpur, the largest city in Jharkhand which is known as "The Steel City of India" as it is the first city to have India's first private iron and steel company, "Tata Steel". 
Apart from being an industrial city, it is the natural, scenic view of this city that attracts tourists. The other center of attractions is Dalma Hills, Jubilee Lake, Jayanti Sarovar, Hudco Lake, and Bhuvneshwari temple. 
Deoghar
If you are a religious person and a great devotee of Lord Shiva then Deoghar is the best place to visit and experience the holy magic of this peaceful place. You will see a lot of Hindu temples mostly devoted to lord shiva. The natural views and holy vibrations give the most tranquil experience that stays forever in the mind. One of the ancient temples. Baba Baidyanath is known to be one of the 12 jyotirlingas in India is also a major reason for tourists' captivation and offers a divine experience to the supreme devotees.
Giridih
Giridih is now a separate city after being carved from Hazaribagh in 1972. It is known as the "Land of Hills" as all the verdant hills it possesses are covered with all this green forest majorly Sal tree, Bamboo, Semal, Mahua, and Palash. You will also get to see the huge numbers of Jain temples and Jain buildings and sites which mostly attracts the Jain community from all over the world which also gave it the name of "The Land of Jain Pilgrims". The beauty of all the hills, dams, valleys, and temples contribute a lot to attract tourists in Jharkhand.   
Jharkhand's Traditions and Cultures 
Jharkhand is not just a place with diversity in beautiful places but also carries a huge diversity in communities making itself one of the most multi-ethnic states.
 Jharkhand has about thirty native communities among which

Santhals, Oraons, Munda, Kharias, Hos, and churros

are the major ones.  

Different tribal cultures are common to see in Jharkhand. Every tribe and community has its own unique culture which is reflected by its dance, food, painting, music, and drama. 

Karma Puja, Jitis Puja, sarhul

are a few major festivals celebrated in Jharkhand with enormous devotion. 

Pousha Mela and Tusu Fair

are the occasions that are celebrated joyously in order to celebrate new crops harvesting. 

Hindi is a widely spoken language among the people of Jharkhand,

Bengali, Angika, Kurukh, Mundari, Santali,

and

Ho

are the other community languages. 

Litti Chokha

, the cuisine which we hear mostly these days is coming from Jharkhand with a number of other popular cuisines. 

Hunta Dance, Mundari Dance, Barao Dance, etc.

are some famous tribal dances of Jharkhand. 

The

Paitkar

painting, a special type of folk painting, is one of the oldest pieces of art of the tribal community which reflects the culture of Jharkhand. 
If there are several members in your family having unique taste in traveling then Jharkhand is a must consider place. The hills and waterfalls definitely attract the youth who love tracking and the senior citizens can enjoy the peaceful divine atmosphere with all the temples and pilgrimages while the tribal art and culture might definitely capture the interest of art lovers. 
Other Articles