Introduction
Are you tired of your daily urban life? Want to enjoy the serenity of the hilly areas and get enchanted by its beauty? Then, Morni Hills is just the perfect place for you. Hearted in the Denmark of India, Haryana, Morni Hills is a place that will forever stay in the back of your mind and heart.
About
Morni Hills is a hill station in Haryana near Chandigarh, hearted on the outskirts of Panchkula. As Haryana's only hill station, it is also a popular picnic destination for locals and tourists. The hills are 1,220 meters high and offer some truly breathtaking views. In addition to being a spectacular vantage point, Morni Hills is also a significant archaeological site, with carvings dating back to the 7th century discovered in the Thakur Dwar Temple.
The entire route from the city to these quaint hills of Morni, located 45 kilometers from Chandigarh, makes for a beautiful journey. Forests and massive pine trees line the path up to the Shivalik foothills before arriving at Morni Hills. There are two lakes here as well, and despite the presence of a hillock
between them, the water level in both of them remains constant. The lake is considered auspicious by the locals and serves as a focal point for many celebrations. The remains of the Morni fort can also be found close to the hills. Aside from the landscape, a wide variety of flora and fauna can be found here, making it a delight for any nature lover. Morni Hills, a hidden haven of nature, is a must-see for anyone looking for a quick weekend getaway from Chandigarh.
Wildlife
Morni Hill's extensive coverage of flora and a variety of wild animals is one of the reasons behind its polarity. Jackals, langurs, hares, hyenas, neelgai, wild boars, barking deer, sambar, and even leopards call this place home. The slopes are covered in trees such as neem, oak, pipal, Jamun, amaltas, and jacaranda, as well as a variety of birds. Some of the more common birds seen here include the Wallcreeper, Crested Kingfisher, Bar-tailed Treecreeper, Blue Peafowl, Kalij Pheasant, Red Junglefowl, Grey Francolin, Quails, Himalayan Bulbul, Oriental Turtle Dove, quails, sand grouse, and common doves.
3 must-do activities in Morni Hills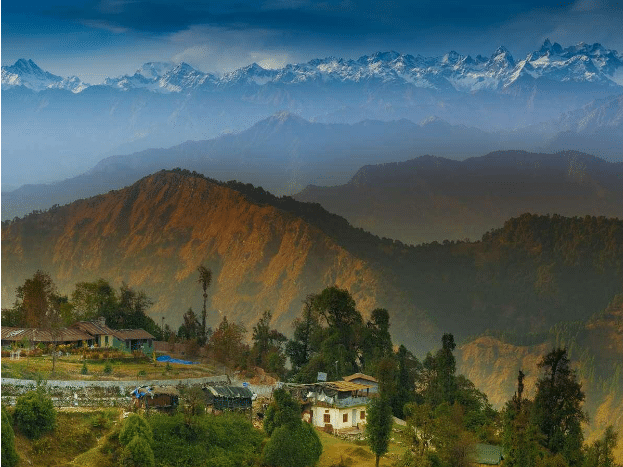 Morni Hills, in addition to being a dream-like natural escape from reality, has a variety of activities to offer its visitors. Some of these activities are:
Boating:

The lake has amazing boating facilities that will take you on a peaceful excursion through the hills.

Taking a stroll in the forest:

You can also go leisurely to enjoy nature in the nearby forests.

Hiking:

Bring out your inner adrenaline junkie and trek to the lake or up to the old Morni fort here, or if you're feeling more adventurous, try hiking up to the Ghaggar river, which flows close to the Morni Hills.
Also, an Adventure Park is also being built nearby, with activities such as rope climbing, commando nets, the Burma bridge, rappelling, and rock climbing. There is also a treehouse with fountains and a cafeteria.
Nearby places to explore
Nada Sahib, perched on the Shivalik Hills, is a Sikh Gurudwara visited by both Sikhism followers and other travelers. It is located on the banks of the Ghaggar River and is thought to be the location where Guru Gobind Singh stopped after the Battle of Bhangani in the year 1688 on his way from Paonta Sahib to Anandpur Sahib. If you happen to be in Panchkula, it is a sure way to restore mental peace and soothe the tired soul.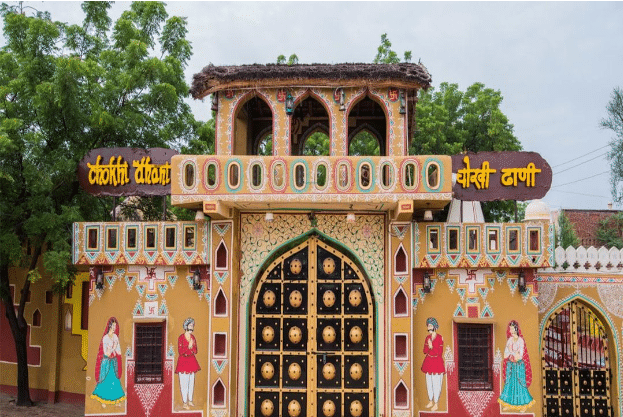 Chokhi Dhani, located on Highway NH22 near Panchkula, is a traditional village designed to promote Rajasthan's rural art and heritage culture. Chokhi Dhani, with its immense natural beauty, plenty of fresh air, and distance from the hustle and bustle of the city, provides a much-needed respite from city life. It also hosts and organizes folk dance and song performances by local artists to promote their work.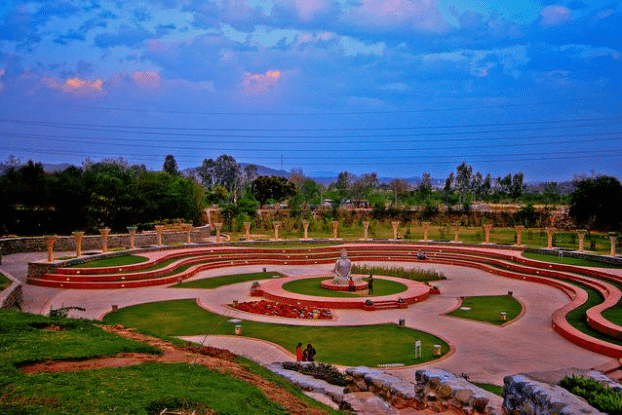 The name itself sounds somewhat mysterious and intriguing, doesn't it? Garden of Silence is a meditative space in Bhagwanpura, Chandigarh, that houses a massive Buddha idol. The garden lives up to its name, providing a peaceful and tranquil environment for meditation among lush green surroundings with a beautiful view of the Shivalik Ranges in the background.
How to reach
Morni Hills is located about 45 kilometers from Chandigarh. Morni Hills is best reached by road, which takes about an hour. You can take a taxi or drive yourself to the location.
You can also take a bus from the Chandigarh Railway Station. Which is how you can also visit Panchkula, which is located halfway between Chandigarh and Morni Hills.
Other Articles