Nahar Singh Palace is stunning, and its architecture is one of a kind. Even today, the echo of drums and trumpets reverberates through the walls of Raja Nahar Singh Palace in Ballabgarh… with the guests' eager feet… and the joyous exclamations at the sight of the famed Raja Nahar Singh's immaculately maintained palace.
Nahar Singh Mahal
Nahar Singh Mahal is located in Ballabgarh, in Haryana's Faridabad district. The fort was built around 1739 AD by the progenitors of Jat Raja Nahar Singh, after whom Ballabgarh was named. However, the construction was only partially completed until around 1850. Raja Nahar Singh Palace is another name for the fort. His ancestor Rao Balram, who came to power in 1739, built the first components of this palace. Urban centres have sprung up around the castle nowadays. The palace's beauty, however, continues to enchant visitors.
This fort, in addition to its splendour, commemorates Raja Nahar Singh and his love for his homeland. He fought against the British in the 1857 revolt, which is regarded as the country's first freedom war.
Architecture 
This double-storeyed sandstone structure's magnificent cupolas and minarets are fashioned around a wide central courtyard. Six elegantly appointed guest rooms with a royal feel are available at the property. The fort was adorned with minars on each of its four corners, but due to age and neglect, only two can be seen today. A Darbar-e-aam (Hall of Public Audience) and a Rang Mahal with a gorgeous chhatri can be found in the palace. 
Main Attractions in Mahal
Although everything in this palace is appealing and lovely to look at, there are a few sections that are particularly noteworthy.
The Rang Mahal was the king's private apartment, and it was also where the king's queen resided. It was also known as the King's Secret Room, where he spent time with his queen and dashi.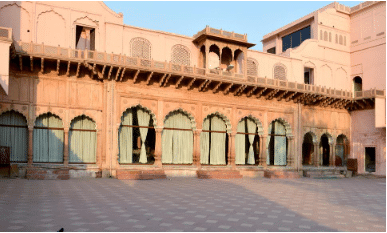 The Darbar-e-aam was a place where the common population could see their king and address their grievances to him. Here, the king used to listen to the people's issues and administer justice.
Restoration 
The Nahar Singh Mahal's deterioration was at its peak a few years ago. However, the Haryana government intervened and was determined to restore Nahar Mahal's beauty. The Haryana government committed its restoration to renowned experts, Francis Wacziarg and Aman Nath. Conservationists and the creators of Neemrana Hotels include Aman Nath, a founding member of INTACH, and his French business partner, Francis Wacziarg.
Heritage Hotel
Haryana Tourism presently manages this palace as a heritage property. It's been renovated and turned into a motel/restaurant hybrid. With the help of a team of professionals, the palace has been transformed into an amazing example of architectural design.
Today, the beautiful pavilions and courtyards of Raja Nahar Singh Palace glisten with a royal ambience carefully accentuated by six tastefully decorated guest rooms, a restaurant, bar, lounge, and public areas, beautified with antiques, relics of a bygone era, stone jallies, and intricately carved arches that transport one back to Raja Nahar Singh's time.
Kartik Cultural Festival 
Since 1996, the biggest annual fair, the Kartik Cultural Festival, has been hosted at Nahar Singh Mahal in November, which lasts for three days. Haryana Tourism organises it in the bright and auspicious fall month of Kartik, according to the Vikram Samvat Calendar.
It breathes new life into martial arts and other national folk arts that are increasingly being forgotten by the general public. In addition, the festival's venue is worth visiting. The Mahal offers excellent architecture and is open to the public. Several singers and dancers, from classical to modern, have the opportunity to showcase their abilities on this massive stage. The goal was to preserve India's art and traditions.
Other Articles