Introduction
Patnitop is a hill resort in Jammu and Kashmir's Udhampur district, atop a plateau in the Shivalik belt. The Chenab River, which flows nearby, is set against a backdrop of lush woodlands at a height of 2024 metres. Three freshwater springs with ice-cold water and medicinal characteristics can be found on this blooming hilltop. Heavy snowfall is a famous tourist attraction in the winter. Patnitop is a paradise for outdoor hobbies, as well as a trailhead for various excursions into the adjacent mountains and a draw for adventurers. It has a magnificent view of the Pir Panjal range.
About
Patnitop is a misspelling of the actual name "Patan Da Talab," which means "Pond of the Princess." A pond once existed in the meadows, and the king's princess used to bathe there frequently. Near the youth hostel, a portion of the pond still exists. The British presumably mistyped the name in their revenue records, therefore it was changed from "Patan Da Talab" to Patnitop over time.
Ten places to visit in Patnitop
Nathatop is reached after a short trek from Patnitop. During the winter, the hill station is blanketed in snow, enhancing its attractiveness double. These mountains are perfect for skiing. Nathatop has become well-known for its paragliding, and visitors from all over the country come to enjoy the beauty and thrills that the area has to offer. The pinnacle of these hills provides a wonderful and clear view of the Himalayas. It is roughly 2711 metres above sea level.
Nathatop boasts a variety of roadside food sellers selling delicious foods to satisfy the appetites of guests. It has a lovely climate and is a pleasant place to visit. It is a must-see for nature enthusiasts and people who appreciate sitting quietly in one area and taking in the peace.
It's a peaceful retreat from the rush and bustle of city life. When visiting during the winter, the Pir Panjal Mountains are blanketed in snow and a visual treat! In the summer, the snow is replaced with lush green grass.
Patnitop is a hilltop tourist site that offers a paragliding thrill trip at an elevation of 2024 metres above sea level. The trip begins at Dawariyai, a 2-kilometre landmark on the Patnitop-Sanasar Road, also known as Billoo Di Powri point.
The point can be reached by ascending 400+ steps carved out of granite. Apart from a safe and entertaining ride, the organisers also provide a high-quality film. You will arrive at Kud, all delighted and enchanted, after a flight of roughly 7-15 minutes, depending on wind conditions.
In Patnitop, the winter months are highlighted by several new skiing courses and setups. Patnitop is a wonderful destination for persons who have never skied before, thanks to its modest and easy slopes. Madha Top (5-6 km from Patnitop on the Sanasar Road) offers excellent skiing opportunities for all levels.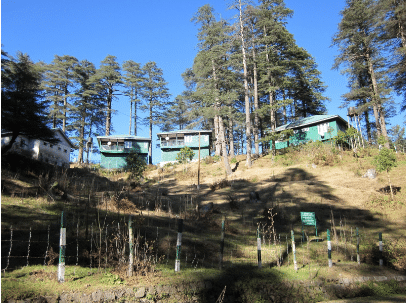 Madhatop, at an elevation of 2,024 metres, is easily accessible by road and is a 5-kilometre hike from Patnitop. Madhatop is a terrific retreat place for trekkers, honeymooners, winter sports enthusiasts, and pretty much everyone else in between, as it is surrounded by pristine natural beauty. Madhatop is nearly a sanctuary for honeymooners and adventure visitors, with its pleasant climate and silver mountains.
Near Patnitop, the Nag (Cobra) Temple is over 600 years old. Hundreds of Shiva worshippers flock to this temple during the Nag Panchami Festival to pay respects and worship the snake King Cobra.
This temple, which is primarily composed of wood, has survived several centuries despite not being a traditional solid temple structure. The temple, which stands within lush green environs, is not only a vital religious centre for the area but also a location that captivates visitors with its settings.
This park, located in Kud, is known for its magnificent flowers. The park is suitable for both couples and families, and it has become a popular picnic location for all visitors to Kud. The region's major attraction is 'Patisa,' a sweet that the region is famous for. It can be found on the Udhampur Srinagar Highway on the route to Patnitop from Jammu.
This temple was established on the site where a Shiva devotee was accidentally slain by his Trishul while attempting to defend his spouse, Parvati, over 80 years ago.
Billo ki Powri is a 270-step staircase carved out of the mountainside a little distance from Patnitop that leads to the settlement of Dawariyai. Its origins are unknown, though it is frequently referred to as a shorter route to Batote town built by the old monarch of Chenani.
Sanasar Lake is 20 kilometres west of Patnitop in Jammu & Kashmir's Udhampur district and is called for two nearby lakes, Sana and Sar. The lake is close to two main attractions – Shanta Ridge and Shank Pal – and is known for its verdant alpine meadows and picturesque high peaks. Sanasar Lake, one of Patni's most popular tourist attractions, is recognised for its picturesque beauty and lush green environs.
Baglihar Dam, also known as the Baglihar Hydroelectric Power Project, is located on the Chenab River in Jammu & Kashmir's Doda region. The location, which is nestled between two hills, offers breathtaking views of the surrounding area, adding to its allure. The dam is located inside a mountain, and access to it is via a 2-kilometre tunnel.
Conclusion
These are some of the best spots to visit in Patnitop that are recognised for their magnificent views and calm atmosphere. There are numerous attractions, ranging from breathtaking mountain views to historic temples to explore, making this a great destination to enjoy the best views in the area. If you're planning a trip to Jammu and Kashmir, make sure to include this destination in your itinerary.
Other Articles