Every living organism is cute and best in its way. Every organism has a reason for its existence in this world. They balance the food chain and maintain the cycle of life. Many little creatures like rodents and mammals are living in the wild and as well as in the homes of people as pets. Likewise today we are going to see about Guinea Pigs and some facts about them.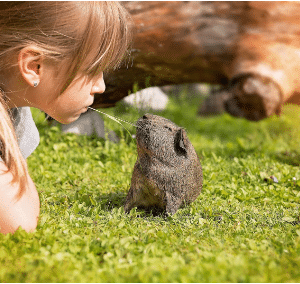 A guinea pig and a little girl
The Guinea pig(Cavia Porcellus) is a small organism that belongs to the group of rodents. It belongs to the family of Caviidae. They are smaller in size and they live underground. They burrow themselves in a place where they can have a good source of food. They have four toes in front and 3 on the back. They have sharp little claws which help them to make digging a burrow easy. They have round eyes, small noses, and small ears. Different species have different colors of eyes like red, brown, black, and blue. Many people say they get the name Guinea pig because of they were shipped from the port of Guinea. Guinea pig is also a derogatory term that mentions humans who are test subjects in scientific study. 
A Guinea pig eating green
"Guinea pigs, also known as cavies, are small rodents that typically weigh between 1 to 1.5 kilograms and stand at heights ranging from 20 to 50 centimeters. They are characterized by their distinctive fur, which can range from silky smooth to slightly rough, and their adorable whiskers. Guinea pigs come in a variety of colors, including black, white, orange and white mixed, and golden brown.
These herbivores primarily feed on leaves, grass, and greens. While they obtain much of their required moisture from their food, they may still need supplemental water to meet their hydration needs.
Reproduction in guinea pigs is prolific; females can give birth to 5 to 13 young pups after a gestation period of approximately 52 to 68 days. Female guinea pigs mature in about 2 months, while males take around 3 months to reach maturity. Interestingly, young guinea pigs often transition to a diet of grass shortly after birth.
The history of guinea pigs traces back thousands of years; they were originally domesticated for both sustenance and companionship. In the 16th century, European explorers brought guinea pigs from Peru to Europe, where they were further bred and embraced as beloved household pets. Notably, even Queen Elizabeth enjoyed the company of a guinea pig during her childhood."
They weigh around 1-1.5 kg and 20-50cm in height. They have furry hair on the top of their body which differs from silky smooth to sometimes little rough. They have whiskers around the nose like mammals. The Guinea pig has different colors like black, white, orange and white mixed, golden brown, etc. Herbivores in nature eat leaves, grass, and greens. They don't need more water because they eat food with moisture in them that fills the sufficient amount of water needed for them. But the moisture isn't there they need water for their body needs. The female will give birth to 5-13 young toddlers. The gestation period takes around 52-68 days. The females reach maturity in 2 months and males in 3. Most of the time young babies don't get milk-fed by their mother and they eat grass after they are born. 
The history of the Guinea pigs is they were present around 3000 years ago and they were domesticated for food and petting. But in the 16th century Europeans took the Guinea pig back from Peru to Europe. After that, they were reproduced and used as pets in houses. Queen Elizabeth had a Guinea pig when she was a child. 
10 Fascinating Facts About Guinea Pigs: Your Guide to These Adorable Pets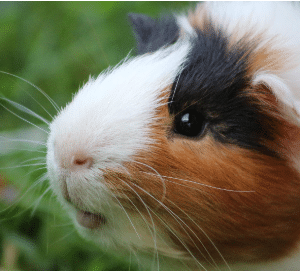 A closeup shot of a guinea pig
There are a lot of facts about Guinea pigs but here we see some of the important and amazing facts in the following.
The origin of the Guniea pig is from Andes mountain, South America.
The female guinea pig is called a sow and males are called a boar. 
The lifetime of the Guinea pigs is up to 4-8 years. The long-lived Guinea Pig is Snowball who lived 14 years and 10 and half months.
They sleep only four hours a day. They are active in the morning and not much in the evening. During this time they do activities like keeping track of their environment, eating, grooming, etc
They pee in different colors. When they pee in a place that place becomes powdery white because of the presence of calcium in it. When their pee looks pink to red it may maybe possible to infections or urinary stone problems.
They have a good vision comparing humans and they can see colors in their vision.
Guinea pigs are smarter in their ways like they can able to remember the pathway of food resources. 
They have a good hearing capability by which they can able to hear sound from 50-50,000hz which humans can't hear. 
They communicate with one another using squeaky sounds and some sounds can be in lower hertz which humans can't hear. 
They are allergic to penicillin medicine. It may cause different behavior and diarrhea in them. Sometimes even death.
Rabbits and guinea pigs shouldn't be kept in the same place. Because they don't get along and sometimes rabbit disease may affect guinea pigs.
In 1961 guinea pigs went on a journey to space in Soviet Sputnik 9 spacecraft.
These are some of the facts about the Guinea pig and its characteristics. In today's world other than petting they are also used in scientific research. Kids above 5 can start their petting with Guinea. So let's adore these little buddies and enjoy ourselves.
**1. Diverse Breeds:**
Guinea pigs come in various breeds, each with unique characteristics. Some popular breeds include the Abyssinian, Peruvian, and American. These breeds differ in fur types, colors, and patterns, making them a favorite among pet enthusiasts.
**2. Lifespan Variations:**
Although the typical lifespan of guinea pigs is 4-8 years, it's essential to note that this can vary depending on factors such as genetics, diet, and overall care. Some guinea pigs have been known to live well beyond the average, with exceptional cases like Snowball living for 14 years.
**3. Social Creatures:**
Guinea pigs are highly social animals, and they thrive when they have companions of their kind. In the wild, they live in groups, and in captivity, they often do best when paired with another guinea pig. Loneliness can lead to stress and other health problems in these social creatures.
**4. Unique Vocalizations:** Guinea pigs are known for their broad range of vocalizations, from cheerful squeaks and chirps to purring and rumbling. Each sound has a specific meaning, and attentive owners can learn to understand their guinea pigs' needs and emotions through these vocal cues.
**5. Dental Health:** Guinea pigs have continually growing teeth, and it's crucial to provide them with plenty of roughage, such as hay, to help wear down their teeth naturally. Dental issues can be common, so regular dental check-ups are necessary to ensure their health.
**6. Coprophagy:** Guinea pigs practice a form of coprophagy, which means they eat their own feces. This behavior is part of their digestive process and helps them obtain essential nutrients that weren't absorbed the first time through.
**7. Territorial Nature:** Guinea pigs can be territorial animals. They often mark their territory by rubbing their chin on objects or even each other. This behavior is their way of establishing boundaries within their living space.
**8. Popular Pets:** Guinea pigs are a popular choice as pets due to their friendly and docile nature. Their manageable size, relatively low maintenance, and adaptability to indoor living make them an excellent choice for families and individuals alike.
**9. Cultural Significance:** Guinea pigs hold cultural significance in some regions. For example, they are a traditional food source in parts of South America, particularly in countries like Peru. They are prepared in various culinary dishes and are even considered a delicacy in some regions.
**10. Research Animals:** Guinea pigs have been used in scientific research for decades, especially in medical and pharmaceutical fields. Their biological similarities to humans make them valuable for studying various medical conditions and treatments.
**11. Grooming Habits:** Guinea pigs are meticulous groomers and spend a significant amount of time cleaning themselves. They use their small front teeth to help keep their fur tidy and free from parasites.
**12. Unique Senses:** Guinea pigs have well-developed senses of smell and taste. They use their sense of smell to explore their environment and to identify food. Their keen sense of taste helps them distinguish between different types of plants and foods.
**13. Importance of Hay:** High-fiber hay, such as timothy hay, is a staple in a guinea pig's diet. It provides essential nutrients, aids in digestion, and helps keep their teeth healthy by promoting natural wear.
**14. Lifelong Learning:** Guinea pigs are continually learning from their environment and experiences. They can adapt to new situations and challenges, making them a rewarding pet for those who enjoy interacting with and training their pets.
**15. Unique Gestation Period:** The gestation period for guinea pigs is relatively short, lasting around 68 days. This relatively brief pregnancy is one reason why guinea pigs are known for their rapid reproduction and the birth of multiple young pups at a time.
16. Dietary Needs:
One of the most crucial aspects of guinea pig care is their diet. Guinea pigs are strict herbivores, which means they consume plant-based foods. The primary component of their diet should be high-quality hay, such as timothy hay, which provides essential fiber for proper digestion and helps wear down
Date: 04/05/2022
Follow us on linked in
Other Articles