About Floods In Canada:
Heavy rains cause flooding in Canada and the US after a powerful storm hit the northwest Pacific region. This one dumped a month's worth of rainfall in just two days. Some areas faced rainfall of 8 inches (20 cm) Along with the rain, storms and dust caused landslides and mudslides. Scientists have already warned that increasing global warming makes the water temperature even warmer and also increases the rate at which storms occur.
One person is confirmed to be dead, two people are missing and all the rail access to the country's largest port in Vancouver is damaged. This port is very crucial for Canada's economy and logistics. It carries around 400 mn USD worth of goods every day ranging from automobiles to essential goods. Canada already faced a drought
that affected its agricultural produce and now, the floods will only further devastate it.

Pipelines were also shut in caution. Huge disruptions to exports occurred after important pipelines, railroads were closed. Citizens of Merritt were asked to evacuate due to a sudden increase in the river water level. Nearly 8,000 members were evacuated while many others were still stuck. Lots of debris accumulated on the roads choking the highways and experts are deployed to clear it. Six months ago, a wildfire occurred in many parts of the British Columbia region of Canada.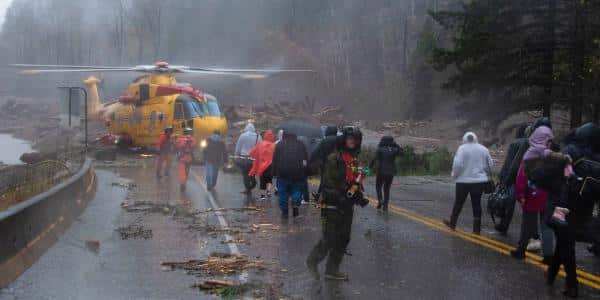 Alt text: rescue operations by the Royal Canadian Airforce
Description: helicopters were deployed after all the railroads were cut off due to floods in
Canada
The Canadian government announced the deployment of the air force for rescue operation and to assist supply chain lines restoration which was cut off due to debris accumulated after the floods. Military helicopters have already rescued 300 people who were stuck on a highway. A state of emergency was declared, and all the leaders could take measures to reduce the harmful impacts of floods like limiting travel etc., in the city of Abbotsford, farmers declined to be evacuated and protected their cattle.
The total number of people and vehicles displaced are yet to be confirmed.
History Of Flooding In Canada
The history of flooding in Canada includes floods caused by snowmelt runoff or freshet flooding, storm-rainfall and "flash flooding", ice jams during ice formation and spring break-up, natural dams, coastal flooding on ocean or lake coasts from storm surges, hurricanes and tsunamis.
Urban flooding can be caused by stormwater runoff, riverine flooding and structural failure when engineered flood management structures, including dams and levees, prove inadequate to manage the quantities and force of flood waters. Floods can also occur when groundwater levels rise entering buildings cracks in foundation, floors and basements.
Flooding is part of the natural environmental process. Flooding along large river systems is more frequent in spring where peak flows are often governed by runoff volume due to rainfall and snowmelt, but can take place in summer with flash floods in urban systems that respond to short-duration, heavy rainfall.
Flooding due to hurricanes, or downgraded severe storms, is a concern from August to October when tropical storms can affect Eastern North America. Flood events have had a significant effect on various regions of the country. Flooding is the costliest natural disaster for Canadians. Most home insurance claims in Canada deal with water damage due to sewer back-up, not fire.
Floods occur five times as often as wildfires, the second most frequent natural hazard in Canada. Between 1900 and 2005 there were 241 flood disasters in Canada.
The 1894 Fraser River flood had a return period of slightly more than 500 years and the 1948 flood was close to a 200-year event.  The 1997 Red River flood was named the 'flood of the century'.
The International Joint Commission (IJC)'s 1998 report warned that although the 1997 Red River flood had a "return interval ranging from 100 to 500 years, depending on the location", there was a "statistical probability of a similar flood each year." The 2011 Assiniboine River Flood was estimated to have a return interval of 300 years.
The Calgary flood had a return interval ranging from 70 to 100 years. A 100-year flood has a 1-percent annual exceedance probability (AEP) flood. with a flow of the Bow River in Calgary measured at c.1,740 m3/s (61,000 cu ft/s) when the flood reached its peak level on June 21, 2013.
There are many ways climate change will manifest itself in Canada: wildfires, extreme heat, hail and wind storms, permafrost loss. But the most frequent and costly natural disaster in Canada is flooding. A warming and increasingly volatile climate is causing a rise in sea levels and more intense rainfall. Combine that with decades of paving over wetlands and forests — nature's sponges — and you have all the ingredients for catastrophic flooding.
At risk is the country's most important infrastructure. That's not just our roads and railways; it's electricity, fuel, water and food supply — the basic necessities of life. Disruption of a single infrastructure can set off a domino effect to disaster. For example, if a city loses power, it could jeopardize food storage, temperature control and telecommunications. In short, it could mean the difference between weathering a storm and succumbing to one.
Canadians are already witnessing changes in the water cycle and the consequences of it. The November B.C. floods are on track to become the most costly natural disaster in the province's history. The federal government has sent a historic $5 billion to B.C. for flood recovery efforts, but the total cost is likely to be much higher as officials continue to assess the scale of the destruction. That's shifting the conversation on climate change from one of 'how do we slow down warming' to 'how do we live with climate change.'
Floods can occur in various regions of Canada, and they are a significant natural hazard that can have devastating consequences. Canada is a geographically diverse country with varying climates and landscapes, which means that flood risks and patterns can vary across different provinces and territories. Here are some key points about floods in Canada:
Causes of Flooding: Flooding in Canada can be caused by various factors, including heavy rainfall, snowmelt, ice jams, storms, and coastal surges. Climate change has also been linked to an increase in the frequency and severity of floods in some areas.
High-Risk Areas: Some areas in Canada are more prone to flooding than others. For example, regions near major rivers, such as the Red River in Manitoba and the Saint John River in New Brunswick, are particularly susceptible to spring and summer floods due to snowmelt and heavy rains.
Flood Management: The management of flood risks in Canada is a shared responsibility among federal, provincial, and territorial governments, as well as local authorities. These entities work together to develop flood maps, implement floodplain regulations, and invest in infrastructure projects to mitigate flood risks.
Notable Flood Events: Canada has experienced several significant flood events in its history. For instance, the 2013 Alberta floods were among the costliest natural disasters in Canadian history. In 2017, heavy rains and snowmelt caused widespread flooding in Quebec and Ontario. These events led to evacuations, property damage, and financial losses.
Flood Preparedness: The Canadian government encourages citizens to be prepared for flooding by creating emergency plans, assembling emergency kits, and staying informed about weather conditions and flood warnings. It's also essential to understand your flood risk if you live in a vulnerable area.
Climate Change and Flooding: Climate change is a growing concern in relation to flooding in Canada. As temperatures rise, the frequency and severity of extreme weather events may increase. This could lead to more significant flood risks in the future.
Emergency Response: In the event of a flood, various agencies and organizations, including local governments, the Canadian Red Cross, and provincial emergency management agencies, work to provide assistance to affected communities. Evacuations, emergency shelters, and relief efforts are often coordinated to help those in need.
Flood Insurance: Flood insurance is not typically included in standard homeowner's insurance policies in Canada. It is essential for individuals living in flood-prone areas to purchase separate flood insurance to protect their property and belongings.
Canada is actively working on improving its flood management strategies and increasing resilience in the face of changing climate patterns. Efforts are underway to better predict and respond to flood events to minimize their impact on communities and the environment.
Private insurance: Overland flooding insurance not available in Canada
Canada, the provincial and federal government via the Canadian taxpayer, cover the cost of large-scale floods, as private insurers will not cover the cost of homeowners' overland flooding damage. Canada is in a unique situation as the only G8 country where individuals cannot purchase this insurance. According to the IBC 2012 report, "Commercial insurance policies may provide coverage for damage due to overland flooding either as part of the commercial property policy or as a separate policy endorsement. "Private insurers cover sewage backup but won't offer flood protection because the small population base of Canada means it's difficult for the companies to cover the cost of their risk."
In the 1980s local governments typically proceeded from flooding to panic planning, and then to procrastination and the next flood.
Environment Canada had a flood damage reduction program from 1975 to 1998. In 2013 mitigation at the federal level was funded through the Disaster Financial Assistance Arrangements, the Building Canada Fund and Public-Private Partnership Canada. 2011 had a serious flood season. The 2012 "federal budget set aside almost CAD100 million to help the provinces and territories with the cost of permanent flood mitigation projects.
Krishna amrutha
18-11-2021
Other Articles