In the busy working days and kids that wake up late have trouble having breakfast on time. A breakfast that doesn't take time and it's tasty and healthy for all people is called a milkshake. Milkshake is a cold beverage that is originated in 1900 with different ingredients. Let's see the history and some facts about milkshakes. 
History: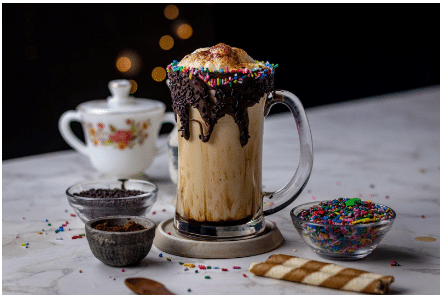 A mug of milkshake with toppings
The present recipe of the milkshake was created in 1922 when an employee try to add ice creams and chocolate syrup on malted milk. Malted milk is created by blending the milk. The taste was good and it was liked by the youth and adults. Then the beverage becomes famous and every hotel, minibar, restaurant, movie theatre, etc started selling. The malted milkshake became popular which inspired people to discover blenders. Then on the further improvement, they removed the malt because of people's requests. Some of them tried different recipes to make the drink more interesting and they did. In St. Louis, a drive-through restaurant invented a milkshake that is so thick and tasty it should be eaten by spoon.
 But more people preferred milkshakes that have floating ice cream on top. Still, now there aren't new discoveries in the milkshake, the toppings and flavors may change but not the whole preparation. The first written mention of milkshake is in the random house dictionary in 1885, which describes it as a frothy drink. The first original milkshake was an alcoholic drink that contains eggs, and whiskey mixed drink like an egg-nog.
Preparation:
A picture of a Kiwi milkshake
The common ingredients needed to make a milkshake are:
Milk(½ cup)

3 scoops of ice cream any flavor

Any flavored syrup

Sugar

Sprinkles and Oreos for decoration.

Optional: Fruits and wafers for munchy taste.
The milk is poured first and sugar is added and then adding the rest of the ingredients one by one into the blender. Blend the whole mix until it gets a texture and consistency. Then pour it into a cup and add some ice cream on top and decorate it with sprinkles or Oreos. The milkshake is ready to serve. Many discovered new methods like adding Oreos in milkshakes and melted chocolate candies.
Health benefits of milkshake:
Strawberry Milkshake with a strawberry on top
People think milkshake is a refreshment drink that is only good for summer. But it also has many qualities. Milk is a source of calcium that every person needs for bone strength. A  milkshake as carbohydrate, whey, vitamins, minerals, and proteins. Bodybuilders drink milk for bone strength and whey a protein obtained from milk that is helpful in the protein build up. Sugar in milkshakes gives energy to the brain to function well. And the fruits like mango, strawberry, and citrus fruits have vitamin c in them. Different type of milkshake contains fiber which is helpful in weight loss and heart health. 
These are the health benefits a tasty and creamy milkshake has. It is a good drink after jogging, a good evening snack, and a binge partner. So let's eat healthily and stay fit and perfect.
Other Articles