https://www.linkedin.com/in/shrinidhi-shandilya-838a91203
Ever heard of a chicken sailing over the seas and travelling across-the-board?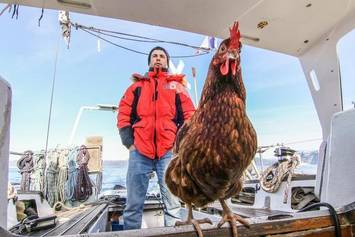 Alt text :- Guirec and Monique Image source :- cnn
Monique is the name of the hen and its age is 7years. She is the one who has travelled to those countries which we might have dreamt of ever.She doesn't belong to any specific breed nor a high rich family yard but is a common hen who lays an egg a day.The person who made her the partner is Guirec Soudée. He adopted her when he met her at the Canary islands during his cruise tour. Since then they have become life mates.
Two years at sea have fostered a close relationship between the two fellow sailors as they cross the globe, through warm weather and cold.
One is a 24-year-old male. The other is a hen. Monique has proven herself to be an expert paddle-boarder…
Guirec Soudee – the 24-year-old – is the one who does most of the hard work on board the boat.
Monique is the hen, who spends most of her time admiring the view from the deck, and laying the occasional egg.
How does the story begin?
Guirec was 20 years old,when he decided to set off on his journey to the world tour. He chose his rusty sailing boat which had a small diesel engine for manoeuvres in ports. The name given to the boat by him was Yvinec,after the French Island to which he belongs. It took home almost five years of sailing to complete his dream.
Now he is 28 and is very happy to remember his adventure. In an email interview he said that "I first crossed the Atlantic leaving France from Brittany, stopped by Spain, Portugal, Madeira, Canary Islands then straight to the Caribbean," explaining his route.
The two have started building up a close following online in recent months as French media have picked up on their unusual adventure. Guirec, who is from Brittany in France, began his trip around the world with Monique in May 2014.
After starting from the Canary Islands, Spanish territory near Africa's west coast, the pair sailed to St Bart's in the Caribbean before moving into the Arctic last August.
"The hen was an ideal choice. It doesn't need that much looking after and I'm able to get eggs at sea. People told me it wouldn't work, that the hen would be too stressed and wouldn't lay eggs.
"But there was no problem, she laid eggs straight away. She adapted to it perfectly – she was very comfortable very quickly."
Over an average week, Monique lays six eggs, even in the cold climes of Greenland and even during three months there without sun.
Guirec says locals in Greenland have reacted with some curiosity to her presence – understandable, perhaps, given there is no poultry farming there.
Life is pretty comfortable for Monique on board the 11.8-metre (39ft) boat, named Yvinec after the island on which Guirec grew up.
One thing Guirec may also have to be careful about is the quarantine regulations. While hi and his Monique's friendship survived its only encounter so far with customs officials, in Canada, he acknowledges it may not be so easy next time.
Not that Guirec is apprehensive about the prospect of their relationship being broken up. "I'm not too worried about that," he says that. "I'm a positive person."
There are the positives to be taken, too, from having a hen instead of another person on the board. "Compared with people, she doesn't complain at all.
Alt text:- an overview pic taken by Guirec
Image source:- the Hindu
He worked at the Caribbean for about a year and got his boat ready for the ice. Then he headed to the North through Canada,saint Pierre and Miquelon islands, on to Greenland.
"After wintering in autarky in the ice, I sailed through the Northwest Passage under the Arctic Circle, and became the youngest sailor to cross it without any assistance," he says. Next stop, Alaska, followed by San Francisco, before setting sail on a long stretch through Cape Horn, Antarctica, South Africa, Brazil, French Guiana, the Caribbean again and back to France.
Alt text :- the northern lights captured by the sailor
Image source :- the Hindu
The bond of Guirec and Monique was so special. See how
He said that the little Monique never had any problems with the swinging of the boat and she enjoyed it on board."She loves fish and soon become very good at catching the flying fish on the deck," says Guirec.
The rest of the time she spent sitting at the back and enjoying the scenes and giving his partner the company.
He said that he spent four months like that with Monique. Fortunately for him, Monique laid eggs the entire time. It was a tough task to source food and his fishing through the ice did not quite work out. He was told that a stressed hen would not give eggs. But given this globetrotting hen's record, she seemed far from stressed. "She is a special chick," he says.
As he travelled, he paused at port cities to make money: fixing boats, giving kite-surfing lessons, cleaning swimming pools and working at nautical beach schools. That is how he managed to pay off the port fee and buy food. Once the international media started taking note of him, he was able to sell a few images that he shot of himself, Monique, the high seas and the surroundings.
"The challenge was to manage on my own and hold on to my dream," says Guirec, adding that he had no skills in sailing solo, nor in sailing far from shore. "Everybody thought I was crazy to leave like that with a boat in bad shape. But I am the happiest man in the world to have succeeded and lived through it," he says.
you can also read about chilika lake: Why Does The Chilika Lake Of Odisha Hold An Extraordinary Place In The World ? Lets Know- Erakina
Shrinidhi Shandilya
12/12/2021
Other Articles