E-waste or electronic waste is an emerging problem and a business opportunity of increasing importance due to the volumes of electronic waste generated and the content of toxic and valuable materials in them. The fraction including iron, copper, aluminum, gold, and other metals in e-waste is more than 60%, while pollutants account for 2.70%. Due to the high toxicity of these pollutants, mainly when incinerated or recycled in an uncontrolled environment, the Basel Convention designated e-waste as hazardous and created a framework to control the movement of such waste across national borders.
What is Electronic waste?
Electronic waste, or e-waste, refers to all electrical and electronic equipment (EEE) and its parts that their owner has discarded as waste without the intention of re-use. Electronic waste is also referred to as WEEE (Waste Electrical and Electronic Equipment), electronic waste, or electronic scrap in different regions and under different circumstances worldwide. It covers a wide range of products – almost any household or business item with circuits or electrical components that are powered or battery-powered. Examples of E-waste: Computers, Televisions, VCRs, Stereos, Copiers, and Fax machines.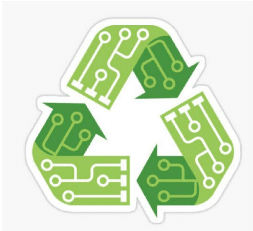 Adverse effects of e-waste
Electronics contain toxic substances – so they should be handled with care when you no longer need or need them. The consequences of improper disposal of e-waste in landfills or other non-landfill sites pose a serious threat to current public health. They may pollute ecosystems for generations to come. When electronics are improperly disposed of and end up in landfills, toxic chemicals are released that affect the earth's air, soil, water, and ultimately human health.
Effect on air- Air contamination occurs when e-waste is informally disposed of by dismantling, shredding, or melting the materials, releasing dust particles or toxins such as dioxins into the environment that cause air pollution and harm respiratory health. The negative effects of informal e-waste recycling on the air are most dangerous for those who dispose of the waste, but pollution can spread thousands of kilometers away from recycling sites.
Effect on soil- When e-waste is improperly disposed of in regular landfills or illegally dumped, heavy metals and flame retardants can seep directly from e-waste into the soil and cause groundwater contamination or contamination of crops that may be planted nearby or in the future nearby. When soil is contaminated with heavy metals, crops become vulnerable to absorbing these toxins, which can cause many diseases and prevent agricultural land from being as productive as it could be.
Effect on the water- After soil contamination, heavy metals from e-waste, such as mercury, lithium, lead, and barium, leach even further through the soil to enter groundwater. When these heavy metals enter groundwater, they eventually end up in ponds, streams, rivers, and lakes. These pathways create acidification and toxicity in the water, which is unsafe for animals, plants, and communities, even if they are miles away from the recycling point. Finding clean drinking water becomes problematic.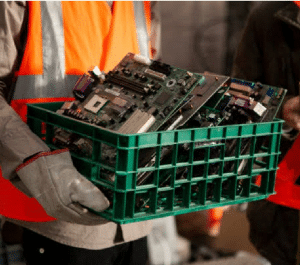 Effect on human health- The seriousness of the effects of e-waste on the human body cannot be underestimated. Exposure to lead and mercury left behind by improperly disposing of cell phone batteries can lead to damage to the brain, kidneys, and nervous system. In computers, exposure to cadmium and chromium can reduce bone density, lead to cancer, and even negatively alter a person's DNA.
| | | |
| --- | --- | --- |
| Sources | Constituent | Health effects |
| Monitors | Lead (Pb) | Affects brain development in children |
| Semiconductors | Cadmium (Cd) | Cause neural damage, accumulates in kidney and liver |
| Circuit boards | Mercury (Hg) | Brain damage, respiratory and skin disorders |
| Cables | Plastics/ PVC | Reproductive problems, immune system damage |
| Motherboard | Berylium (Be) | Lung cancer, skin diseases such as warts, beryllicosis |
Challenges for the management of E-Waste
Poor infrastructure for the recycling of waste

Lack of awareness and financial incentives

Less information on E-waste generation rates

Mismanagement in the market for the end-of-life products

Environmentally unsustainable informal sector practices
How to manage E-waste?
Reduce e-waste by reusing devices that are still functional.

Donate or sell obsolete functional electronics instead of throwing them away.

Many of broken items such as mobile phones, calculators, and laptops are recyclable, so repairing them saves material and reduces e-waste.

Return e-waste to electronics manufacturers. Many businesses have started accepting obsolete electronic products and recycling them, refurbishing them, and reselling them at reduced prices. This is a fantastic approach to e-waste management.

Take your e-waste to a certified e-waste recycler who will refurbish the old product into a new one using approved recycling processes.

Protect the life of your device by keeping it clean and avoiding overcharging the battery.

Shop for environmentally friendly electronics.
Some E-Waste management initiatives
The Environmental (Protection) Act 1986 enacts the 'polluter pays' principle, making the party responsible for producing the pollution liable for compensation for damage caused to the natural environment. In international environmental law, it is stated in principle 16 of the Rio Declaration on Environment and Development. Polluter pays is also code-named as extended producer responsibility (EPR). Under the Environment (Protection) Act, of 1986, the Central and State Governments can enact legislation to protect the environment and people from exposure to the toxic and hazardous nature of waste. Any violation of the provisions of this Act or the notified rules shall be punishable. Such penalty may be imposed on the violator in case of violation of special rules and regulations on electronic waste.
CPCB India is finalizing a set of rules and has recently issued a formal set of guidelines for proper and environmentally friendly e-waste management and disposal. The Ministry of Environment and Forests, with the help of NGOs, is now processing the rules drawn up by manufacturers of electronic devices. As per the new guidelines issued by the CPCB in 2007, e-waste is included in Schedules 1, 2, and 3 of the "Hazardous Waste Management and Disposal Rules, 2003" and the Municipal Solid Waste Management Rules, 2000. Every manufacturer of computers, music systems, mobile phones, or any other electronic device will be "personally" responsible for the final safe disposal of the product when it becomes part of e-waste. The Department of Information Technology (DIT), Ministry of Communications and Information Technology has also published and circulated a comprehensive technical manual on "Environmental Management for the Information Technology Industry in India". Demonstration projects have also been prepared by DIT at Indian Telephone Industries for copper recovery from printed circuit boards.
In an effort to make users aware of e-waste recycling, many electronic companies such as Apple, Dell, and HP have launched various recycling programs. Nokia India has proclaimed its 'recycling campaign' for the Indian region. The program encouraged mobile phone users to dispose of their used phones and accessories regardless of the brand in any of the 1,300 green recycling bins located at priority retailers and care centers. Nokia also plans to launch an e-waste management program.
The Delhi government's environment department has also decided to involve ragpickers in general waste management in the capital. These rags will be trained, given uniforms, and ID cards, and hired to clean up garbage. The ministry also intends to involve eco-clubs, which are now functioning in more than 1,600 government and private schools in the capital, in this initiative, as it is these eco-clubs that will interact with rags from that particular area.
The hazardous nature of e-waste is one of the world's fastest-growing environmental problems. The ever-increasing amount of e-waste coupled with a lack of awareness and appropriate skills is exacerbating this problem. A large number of workers make a living and their health is endangered by the rough dismantling of these electronic items; therefore, there is an urgent need to plan a preventive strategy in relation to the health risks of e-waste management among these workers in India. These workers should be provided with the required information regarding the safe management of e-waste and personal protection. There are many technical solutions available for e-waste management, but necessary conditions such as legislation, collection system, logistics, and manpower should be in place for adoption into the management system. To elude the harmful effects of e-waste, it is important to properly recycle, so that items can be recycled, refurbished, resold, or reused.
Humera Ansari; Content writer Intern
18-02-2023
Other Articles