History of Buda and Pest is always created with the changing perceptions and priorities of people ruling the area. The history of Budapest has a story supporting this. The three cities once been separated got together and named 'Budapest'. Going back to the historical aspects that made modern Budapest is worth it. Budapest is the capital of Hungary now.
The history of Budapest is closely related to the Celtic people and Romans. Budapest had been divided into three based on geographical differences. Obuda is the old Buda, the western part with hills was known as Buda, Pest was the flatter eastern side. Among these three, Obuda was the first built by Celts and later the place was occupied by Romans during the first century BC.
And Buda was a Roman colony established around the year 14 BC. Budapest also has the title of 'City of Spas' because it has numerous thermal spring which serves as an identity of the city. The cities, Buda and Pest, were separated by the Danube river. The river is the cultural attachment of the city.

 The night view of Budapest Chain Bridge
The Developing History of Buda and Pest
It was in the thirteenth century that the two separate cities began developing on both sides of the Danube river. The cities faced many breakthroughs before they developed fully. The financial and cultural richness made these lands a target of emperors and kings from different parts of the world.
In 1000 AD, Hungary was established with the coronation of the country's first king, Stephen 1 of Hungary. During this time, the country went through many remarkable changes. However, the two cities were completely destroyed in 1241 after the Mongols invaded the area. And after some more years, the cities were rebuilt opposite Obuda and Buda became the capital of Hungary.
Buda developed this time while pest got practically abandoned.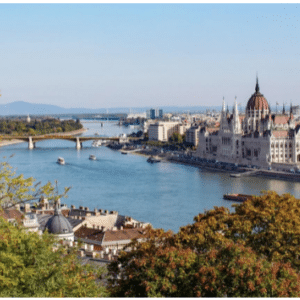 The view of Danube river in Budapest
It was during the Habsburg rule both cities started developing economically and physically. Many churches and landmarks that can be historically recognised were built at this time. And almost this time, the first bridge connecting Buda and Pest was constructed. This bridge is known as Chain Bridge.
In between, Austria and Hungary got into many issues that caused a serious down condition to the growth of these two cities. The two cities faced rapid growth and progress after the 1867 Austro-Hungarian compromise and the establishment of the Austro-Hungarian Empire.
The cities began developing politically and economically by increasing trade relations with other areas. When the trade communication found remarkable growth, the employability chances were also improved and it attracted people to come over and settle in these two cities.
In 1873, Obuda, Buda and Pest were unified into a single city called Budapest. It became the second main city after Vienna in the Austro-Hungarian Empire. Later, the monarchical rule was abolished, and Hungary became an independent state considering Budapest as the capital of the new Hungary.
Budapest was bombed and destroyed between 1944 and 1945, during World War II. In 1989, Hungary chose democracy as the ruling mode. And in 2004, Hungary joined the European Union.
Now, the unified city is the administrative, industrial, and commercial centre of Hungary.[Buda and Pest]
Know the Character of the City Budapest
Danube river and the traditional architecture
Now, the cities are connected by a series of bridges, and Budapest is the cultural attraction of people. Budapest is the focal point of trade and commercial transactions contributing to Hungary's income.
The country is a major tourist attraction also.[Buda and Pest] Hungary earns money from tourism also. The historical monuments and buildings invite many western tourists to this major city where different stories of its growth are heard.
Budapest is designed with neat streets, good restaurants and other luxury amenities. UNESCO has considered the Buda Castle Quarter and Andrassy Avenue as World Heritage Sites in 1987.
The city, Budapest is self-sufficient in food production.[Buda and Pest] The private sector gets benefits from tourism. Many privately-owned hotels are built to accommodate tourists and welcome them with luxurious amenities.
Over the centuries, Budapest has become the fast-developing economy in the world with clear plans and strategies. The city is financially stable, attracting Foreign Direct Investment also.[Buda and Pest] And it's a technical hub where the largest software companies are interested in investing.
In a close observation, Budapest is a historically very well-connected city with modern aspects. Hungary, going well with this city becoming an economic power.[Buda and Pest]
Sujitha K.S
10-01-2022
Other Articles